For those of you who are looking to finance a new or used Mazda vehicle but do not have the know-how to find the right price that fits with your budget, we at Car Finance are ready and willing to help find the right Mazda car finance rate you have been looking for.
No matter which makes or models you desire, we have the knowledge to aid you in purchasing your Mazda with no hidden costs or extra fees to be concerned with. The only thing you need to worry about is which colour automobile suits you the best.
In addition, we accept all customers in spite of a potentially bad credit score, because we believe there is no reason that your credit score should hold you back from financing the automobile you have always wanted.
Call Us Today
(866) 543-7997
Questions?
We're here to help!
Mazda began back in 1920 originally under the name Toyo Cork Co LTD before changing it once again to Toyo Kogyo Co LTD in 1927. Unfortunately, the company was at first not very successful and needed the financial aid of other companies in order to return from bankruptcy.
However, these difficult times marked a substantially positive change in the overall direction of the company, deciding to manufacture vehicles rather than tools as they were previously. This was clearly the right choice as since then the popularity of Maza automobiles has skyrocketed.
In 1968 Mazda ventured into Canada and America, finding more and more success in North America as well as around the world. Currently, Mazda is one of the top automakers globally, making it a far cry from how the company first began.
Mazda 2 Hatchback
The Mazda 2 Hatchback was unfortunately discontinued back in 2014, however, this vehicle is still a great option even in the present day.
The automobile comes standard with a 1.5-litre unleaded I-4 engine that can reach up to 100 horsepower and 98 lb-ft of torque. In addition, the Mazda 2 Hatchback has a five-speed manual transmission for an added benefit of increased fuel economy.
The vehicle also features some convenient technology such as keyless door entry for easier access when your hands are too full to reach into your pockets to retrieve your keys. Moreover, the car offers a cruise control system allowing you to set and maintain your preferred speed on the road with ease.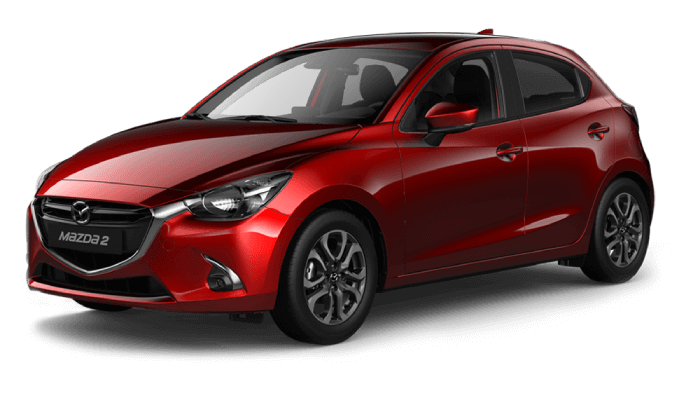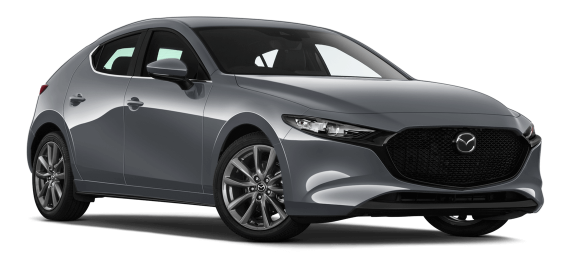 Mazda 3
The Mazda 3 Sedan uses a 2.0-litre 4-cylinder engine that provides 186 horsepower as well as 186 lb-ft of torque. This is also accompanied by a six-speed automatic or optional manual shift mode transmission giving consumers access to their preferred method of driving with little compromise.
As far as safety is concerned, the Mazda 3 features an anti-lock braking system along with power supported four-wheel disc brakes for equal stopping power among all the vehicles wheels for a safer and more effective stop while braking. You can also look forward to an 8.8-inch display monitor with Mazda Connect for a more customizable user experience.
Further, smartphone connectivity with Apple Carplay and Android Auto support allows you to display your phone screen right on your vehicle display for easier hands-free driving.
Mazda 6
The Mazda 6 comes equipped with a 2.5-litre 4-cylinder engine capable of anywhere between 187 and 227 horsepower if you opt for the turbocharged engine over the standard one. You can also expect to find a six-speed automatic transmission for a great mix of both fuel economy and power.
The vehicle also offers safety features such as active lane assist, forward collision warning, blindspot monitoring and pedestrian detection to keep you protected and aware while on the road.
On the interior, you are greeted with an 8-inch touchscreen, six high-quality audio speakers, Bluetooth connectivity, and available Android Auto and Apple Carplay to keep yourself and others thoroughly entertained.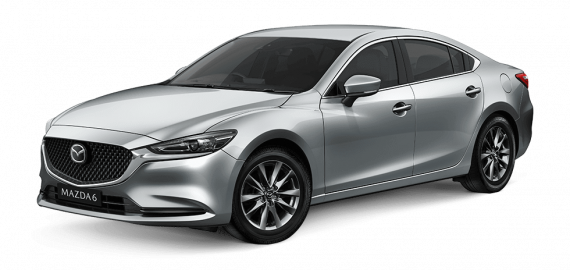 At Car Finance Canada Located in North of Toronto, we guarantee top-quality Mazda 2, Mazda 3 and Mazda 6 finance deals and offers along with any other models of your choosing.
Before you go, please do not forget to try out our completely free to use Mazda car finance calculator and see for yourself the types of deals you can look forward to with the aid of our services.
100% Finance
No Deposit Required
100% finance is available to approved customers as the car is almost always sufficient security.
Same Day Approvals
Our application process is quick & easy. We have the systems, technology and consultants that can get your application approved fast.
No Obligation
All applications and cosultations are obligation free

Phone
(866) 543-7997 (Toll Free)

Our Office
Car Finance Canada
5000 Yonge Street Suite #1901
Toronto, ON, M2N 7E9