The company you choose to finance your vehicle purchase will have a big impact on the way you will secure the vehicle of your choice. Car Finance Canada offers several loan options to ensure an easy process and have you on your way to driving home with a good deal.
With Car Finance Canada, your credit score is not a determining factor in the outcome of your loan deal. Our team understands just how critical car financing can be for you.
For this reason, our process eliminates delays at various stages and makes the application as convenient as possible for our potential clients.
Whether you are buying through a private sale or from a dealership, our aim is for you to secure the car of your choice at the lowest rate.
Call Us Today
(866) 543-7997
Questions?
We're here to help!
Brief History of Fiat 500
Manufactured by Fiat Automobiles, Fiat 500 is a compact four-seat city car with a rear engine. It was first created in 1957 as the successor to the 500 Topolino. Under the marketing flagship of Fiat mobile since 1957 this vehicle has seen decades of innovation from the salon two-door version to the two-door station wagon styles. From its initial introduction to the market in the 70s till now, the Fiat 500 has managed to maintain its status as a convenient and inexpensive car.
The vehicle was a popular choice especially in Europe because of its practicality. It was available as a two-door coupé and as the "Giardiniera" estate with a standard engine laid on the side, lengthened the wheelbase to provide a more convenient rear seat and a full-length sunroof. Abarth and Giannini produced sports variants. Production of the Fiat 500 stopped in 1975 and its replacement, the Fiat 126, was launched two years after.
Fiat launched another new 500 in 2007, the style was inspired by the 1957 Nuova 500. The launch fell on the 50th anniversary of the Nuova 500's launch, the new model came with a front-wheel drive and front-mounted engine. On the 60th anniversary in 2017 Fiat had an exhibit at the Museum of Modern Art in New York. They also received a Corporate Art Award, hosted by Sergio Mattarella, the President of the Italian Republic at the Quirinal Palace.
Fiat 500 Abarth
The Fiat 500 Abarth is a high-performance model that comes fully equipped with a powerful 1.4-litre turbo-four, dual chrome exhaust tips,16-inch Hyper Black alloy wheels, and a high-performance braking system complete with red brake callipers performance-tuned suspension in the Abarth hatchback model. The car also features a spoiler, a leather-wrapped shift knob, performance high-back cloth seats, a leather-wrapped instrument panel, a three-mode electronic stability control system, a turbo boost gauge, and the flat-bottom steering wheel. In terms of safety, the Abarth has features to ensure you are safe on the road. There is a reliable rearview camera and a precise tire pressure monitoring system.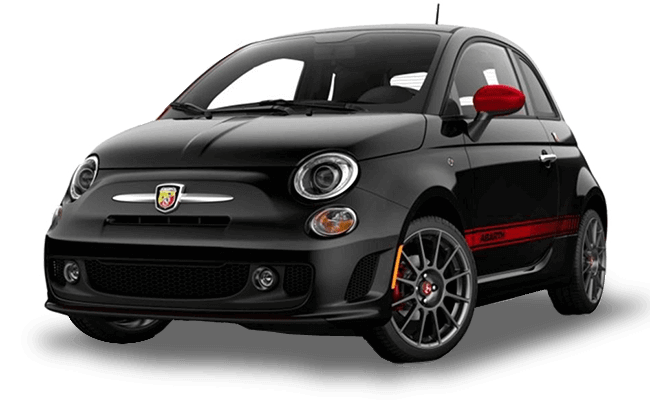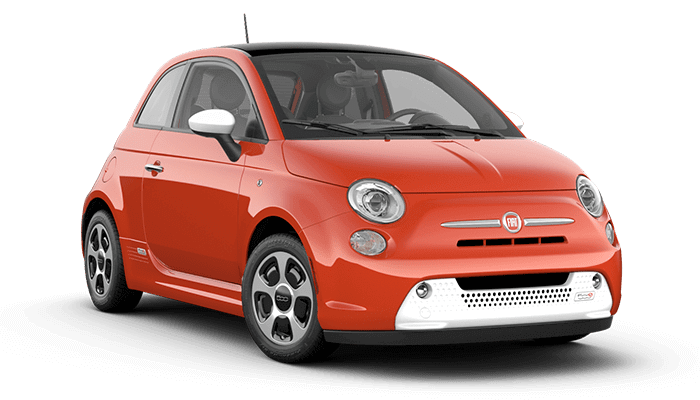 Fiat 500e
As the name suggests, the Fiat 500e is fully powered by an all-electric powertrain. It has 15-inch wheels, a 5.0-inch infotainment screen with a navigation system and a 7.0-inch instrument cluster display. Additional features include the SiriusXM satellite radio, automatic climate control, an audible pedestrian warning system, rear parking sensors. The Fiat 500e has heated front seats and heated side-view mirrors. In terms of its design, you have a choice of 15 exterior colours, with the dashboard being the same colour as the exterior paint. The model is highly customizable, you can truly make it your own.
500 Pop
The base Fiat 500 Pop comes standard with 16-inch semi-gloss alloy wheels, a rearview camera, heated and power side mirrors, a leather-wrapped steering wheel and adjustable front cloth seats. The entertainment center has a 5.0-inch touchscreen with a six-speaker Alpine audio system and Bluetooth. The Pop has a 1.4-litre turbo-four standard engine that produces 135 hp and 150 lb-ft of torque. The model is backed by a six-speed automatic transmission or a five-speed manual transmission. When it comes to space and space, the Fiat 500 Pop gives front-seat passengers up to 40.7 inches of legroom, and rear-seat passengers have 31.7 inches of legroom.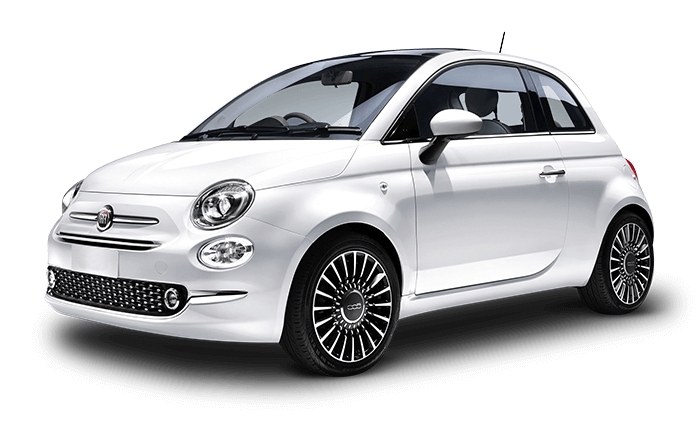 Fiat 500 finance calculator
Navigating through the dense information about leasing, car loans and financing options can be overwhelming. Making the decision to buy a vehicle is a big decision and choosing the right fit to finance your purchase is vital. Choosing a company to finance your vehicle purchase will play a major role in influence if and how you will buy the car of your choice. You will need a quick and easy Fiat finance calculator.
The Fiat 500 is a great all-round stylish city car that can easily be financed in a way that makes it affordable. There are a number of Fiat 500 finance options that provide good deals for your purchase. Car Finance Canada specializes in offering a selection of affordable, and effective financing for customers. You will have access to the best Fiat Canada finance rates. With solid relationships with several Canadian banks, you are bound to find the best deals on Fiat 500 automatic finance and Fiat 500 convertible finance.
There are many custom plans to help you buy a Fiat 500 on finance and for used Fiat 500 finance. You can get an auto loan that will secure you a Fiat of your choice. Car Finance Canada in North of Toronto, Ontario has an efficient model of processing your application in a way that saves time in order to have you driving off in your new car as fast as possible. A deal with us comes free from hidden fees, high-interest rates, and other unnecessary charges. With us, you can get approved and get the best rates, regardless of your credit score and financial history. Get in contact with us today for a free consultation. After the consultation, processing your application is quick and easy. Our commitment is to get you the best new or used Fiat finance deal possible, regardless of your economic status. We work hard to understand your needs and make sure you get the best finance deal available.
100% Finance
No Deposit Required
100% finance is available to approved customers as the car is almost always sufficient security.
Same Day Approvals
Our application process is quick & easy. We have the systems, technology and consultants that can get your application approved fast.
No Obligation
All applications and cosultations are obligation free

Phone
(866) 543-7997 (Toll Free)

Our Office
Car Finance Canada
5000 Yonge Street Suite #1901
Toronto, ON, M2N 7E9